So there is a religious extremist group and a sadly misguided teenage girl currently attacking an organization I was a proud member of for eight years.  The Girl Scouts of America.  When I originally wrote this piece it was an angry tirade towards the group attacking the GSA.  I decided to change my approach and I am just going with the following.
When I was a girl scout I learned about
Community
Friendships that have lasted a lifetime
Art and Music
Citizenship
Leadership – At age 13 I was a camp counselor for 5 and 6 year olds
Crafts
Civics and Government
Charity
First Aid and Safety
Missouri history and American history
Also to anyone who would attack GSA and to say they are somehow anti-religion, my troop meetings were held in the basement of a Catholic church and I received not one but two optional badges that were religiously based.  I still remember that first meeting when at the age of five I became a the youngest type of girl scout, a Pixie Girl Scout, now called Daisy Girl Scouts.  I can still vividly recall my bridge to Junior's ceremony and the many camping and field trips that I proudly attended with my troop.  On one camping trip my parents accidentally got me to the lodge late, but when I entered the room I was going to spend the night it, all the girls cheered my name in unison and came to embrace me and get me set up.  As a troop we visited the state capital, Lincoln's home in Illinois, nursing homes, wildlife preserves, national parks, animal shelters, museums, concerts and of course camp.  We learned how to build a fire and how to cook on one.  We learned how to paddle a canoe, ride a horse and draw a bow and arrow.  We learned basic first aid, safety and what to do if we were ever lost or needed to help a friend who was lost.  We volunteered and donated and helped spread good will and positive energy in our community.   Many of my happiest childhood memories are a result of the Girl Scouts of America and as a good girl scout I will defend that organization with the same vigor and spirit that I had when I was a scout.
The Girl Scouts were founded on March 12, 1912 several decades later I was born on the same date!  I even share the same name as our founder Juliette Lowe, I just happen to spell my name differently!  🙂  So I was destined to be a girl scout!
So before they try to attack a group is a wonderful organization for girls let me just reprint this here
The Girl Scout Promise
On my honor, I will try:
To serve God and my country,
To help people at all times,
And to live by the Girl Scout Law.
The Girl Scout Law
I will do my best to be
honest and fair,
friendly and helpful,
considerate and caring,
courageous and strong, and
responsible for what I say and do,
and to
respect myself and others,
respect authority,
use resources wisely,
make the world a better place, and
be a sister to every Girl Scout.
To my young girl scout sisters I pledge to fight back against this ridiculous campaign to tarnish your good name and your wonderful organization. www.girlscouts.org   And I fully support the Colorado council for allowing one transgendered seven-year old into a troop.  I don't think any child biologically born a boy but who has lived as a girl and is treated like a girl by her family will be any threat to the other girls in the troop.  Solidarity to my sisters who wear the badges and sing the songs.  Girl Scouts Forever!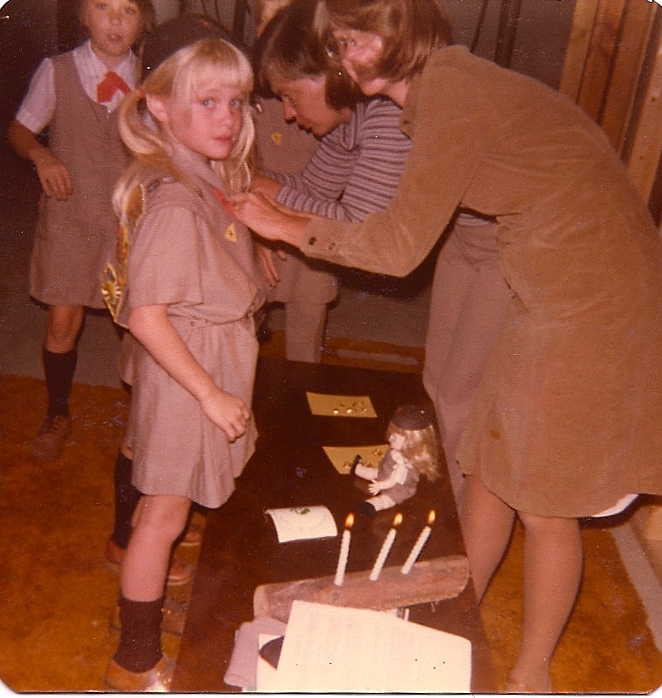 Related articles
Please follow and like us: