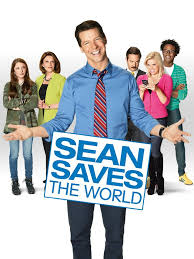 NBC's new Thursday night comedy, Sean Saves the World stars Sean Hayes as a gay single dad who suddenly finds himself the full-time parent of a teenaged girl.  I'm excited about any show which features a gay parent.  It's also great to see another show tackle a mixed orientation marriage, like Fran Drescher's "Happily Divorced". As a straight spouse myself, it's good to see anyone telling our stories. Many straight spouses continue to hide the sexual orientation of their former partner or at least stay private about the reasons for their divorce.  Most people have no idea around 2 million straight spouses live throughout the country, in every economic, racial and cultural background.
Sean Saves the World has only aired one episode, and here is what we know so far about the characters:
Now that she is living with her father full-time, his daughter Ellie suddenly thinks to ask. "If your gay, how did mom and you have sex?"
To which Sean responds, "Gay, tried not to be, was, was again, was one more time because it was not unpleasant…am"
So the character knew he was gay before he entered into a marriage with a straight woman.  He either misled his bride about his true orientation, or she knew and thought they could work through it.  Their specific past is left ambiguous.  He never once says to his daughter that he hurt his ex-wife, or that he made a mistake when he married a straight woman.  I guess no child wants to hear that she is the product of a mistake, but he could have shown at least some empathy towards his ex.
Sean's ex-wife Jill decides to take a job out-of-town, and Ellie makes the choice to live with her dad full-time to stay in the same school.
So far the premise is perfectly reasonable although most single parents would at least wait four years until their kids are out of high school.  Relocations are a common issue with shared custody agreements.  The point where the show started to physically hurt me came early when Sean's mother played by Linda Lavin exclaims, "She (Ellie) has been abandoned, she has no one."
Sean then tries to defend his ex-wife "Jill didn't abandon her, she took a job."
Later in the episode the daughter laments, "I was abandoned, and she sucks (Her Mother)"
I know these are fictional characters but I couldn't help but think of the same woman, watching her marriage dissolve soon after the birth of her child.  That is hardly an easy situation under any circumstance.  So far the viewer knows very little details.  We know their marriage ended soon after the birth of their daughter but that's about it. Did his ex-wife know he was gay?  Or did she have to find out the hard way?  From the character's own admission it would seem infidelity had something to do with it.  There is also no mention of a second husband, so we are to assume, Jill is still unmarried and raised her daughter as a single parent.  Unfortunately for most straight spouses we find out the true sexual orientation of our partners after years of betrayal, secrets and lies.
Television producers have long been obsessed with single dads.  Although in reality, most primary single parents are mothers, network executives can't get enough of the fish out of water scenario of the harried father trying to raise children.  Notable examples include such classic shows as, The Andy Griffith Show, My Three Sons, Full House, Different Strokes, Blossom, Punky Brewster, My Two Dads, Two and Half Men, Full House, Silver Spoons, Who's the Boss, The Nanny, Arrested Development, and Louie.  So many shows feature single fathers a comprehensive list is at www.TVDads.com
My hunch is that NBC wanted to give Hayes his own vehicle, and decided to go with the popular single dad storyline.  I get it, and again I'm glad to see a positive portrayal of a gay single parent.  Sexual orientation has nothing to do with anyone's parenting skills, and it's about time another sitcom followed the lead of the extremely popular Modern Family in which two gay men lovingly raise an adopted daughter.
I just wish the straight spouse wasn't vilified.  Many of us have gone through absolutely dreadful experiences, especially with divorces involving children.  In some circumstances when the gay half of these mixed orientation marriages comes out of the closet, they find themselves eager to re-live the years they lost.  Some regress so strongly, they quickly forget about the responsibilities of parenting altogether.  Others might fight viciously for full custody when they were the ones who lied, cheated and may have even exposed their spouses to STD's including HIV.
Sean Saves the World is extremely formulaic and over uses canned laughter throughout. Hayes is a likable actor with great comic timing, physical comedy and intensity.  The writing is nowhere near the level of Will and Grace the long-running hit that made his career.  Chances is are, Sean Saves the World won't make it a season as it scored a 43% on Metacritic and has had disappointing ratings. Despite its name, a television sitcom isn't going to change the world.  I just wish instead of showing a warped, biased view of a mixed orientation marriage they might have made a show about a gay parent in a loving relationship, or at least made his ex-wife an actual character on the show.
I can't help but think of the fictional Jill holding her newborn daughter and hearing the following words from her new husband, "I'm gay." Instead of raising her child with a man she thought she would spend the rest of her life with, she is going to have to raise her with the part-time help of the self-admitted "fun weekend dad."  Most of us don't immediately bounce back after finding out our marriages were fraudulent. Many straight spouses continue to have a strained if not openly combative relationship with their former partners, and a few are flat out abandoned.   Maybe the show will turn around and become a huge hit, but if it does I would love to see more equitable treatment of one of the few straight spouses on television.  Reality doesn't make for a fun wacky sitcom I guess.
Related articles
I don't have a tip jar for donations on this blog because I think they are tacky, but if you would like to support this blog, please watch the following video provided by our sponsors.  The ads do help me offset some of the expenses for julietjeskeblog.com  I have no control over the content of the ads.  Thanks so much for reading!
Please follow and like us: