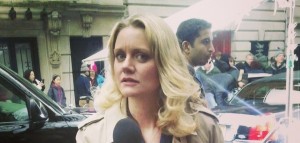 A few of my friends have criticized me for what they view as "creepy" cyber sleuthing habits.  Well, as I often say on stage, "My fairy tale is dead, my heart is black", so yeah I'm not the most trusting person. For the purposes of this article, I won't get into the specifics of my divorce but as the not so eloquent former President George W. Bush tried to say:

Here's the actual phrase he was going for:
"Fool me once, shame on you.  Fool me twice shame on me." 
The truth is painful, and can hurt temporarily, but ultimately we are better off.  The key to catching a cheater was almost always technology: phone, email, twitter, Facebook, and other forms of social media.  Since I've been divorced I've learned to find out as much as possible about a person BEFORE I get seriously involved with them.  The problem of course is that you can go too far, and misinterpret completely innocent things.
CAUTION:  I don't recommend using any of these tactics unless you're in a serious committed relationship, AND you suspect your partner is cheating.  Doing any of this for someone you are casually dating is total overkill and will just make you a neurotic mess. Cyber sleuthing is the nuclear option.  DO NOT do this with every guy or gal you go on a date with, if you do, you've entered a place called CRAZYTOWN.
GOOGLE
Google is your best friend.  You can find all sorts of stuff about a person with this search engine.  Of course you should search for his or her name, but then you can go further with it.  Search for blogs, images, videos, even news articles.  You'd be surprised what shows up.  I once found a blog that was in some ways a love letter to a guy I was dating at the time.  In his case, it was a ex-girlfriend who was still completely obsessed with him.  She lived in another city, but the way he reacted to my discovery made me completely certain that he wasn't worth my time.  He was clearly still infatuated with her, and it explained a lot of his non-committal behavior.  There are other search engines such as Bing, or Yahoo, which are also helpful.
FACEBOOK
It's an invaluable resource, as many users post an incredible amount of personal information on their profile.  But again proceed with caution.  If you have just started dating, then none of the following is a reason to worry, but if you've been exclusive for more than six months or so, consider any of these a red flag.
Does he/she post photos of you as a couple? – If he or she posts other personal information and photos with friends, it's strange if they aren't posting photos of you together.  Why are they hiding you?
Have they changed their relationship status or is it blank? – Again, not everyone is public about these things, but if it's a serious relationship that has gone on for a extended period of time and there is ZERO mention of you…that's highly unusual.
Do they have tons of photos of themselves with an ex on their profile? – Of course there are mitigating circumstances with this one.  If they share children with their ex, you should expect to see photos of them on their profile, especially if the kids are in the photo.  If it's a former spouse, that's also more understandable.  But if it's a virtual shrine to some woman or man who is supposedly no longer intimately involved with them, that's troubling behavior.
Are you ever mentioned in a status update?  Do they make any public declarations about you? – It depends on how often they post, and how public your partner typically is on social media.  If your partner is constantly posting, yet you've never been seen or spoken about…that's cause for concern.
Do they have a separate album dedicated to a former partner?  – This is just the height of tackiness.  Now if you have just started dating, it's no big deal.  But if you're at a point where you're exclusive and you've been dating for an extended period of time, it's just disrespectful to keep that on social media.
Backdoor tips when using Facebook – If you type a person's name in the part where you search for something and just hold it, you will get a pulldown menu below, one of the options is simply called Photos of (Person's Name)  I'm going to use my own account to demonstrate this: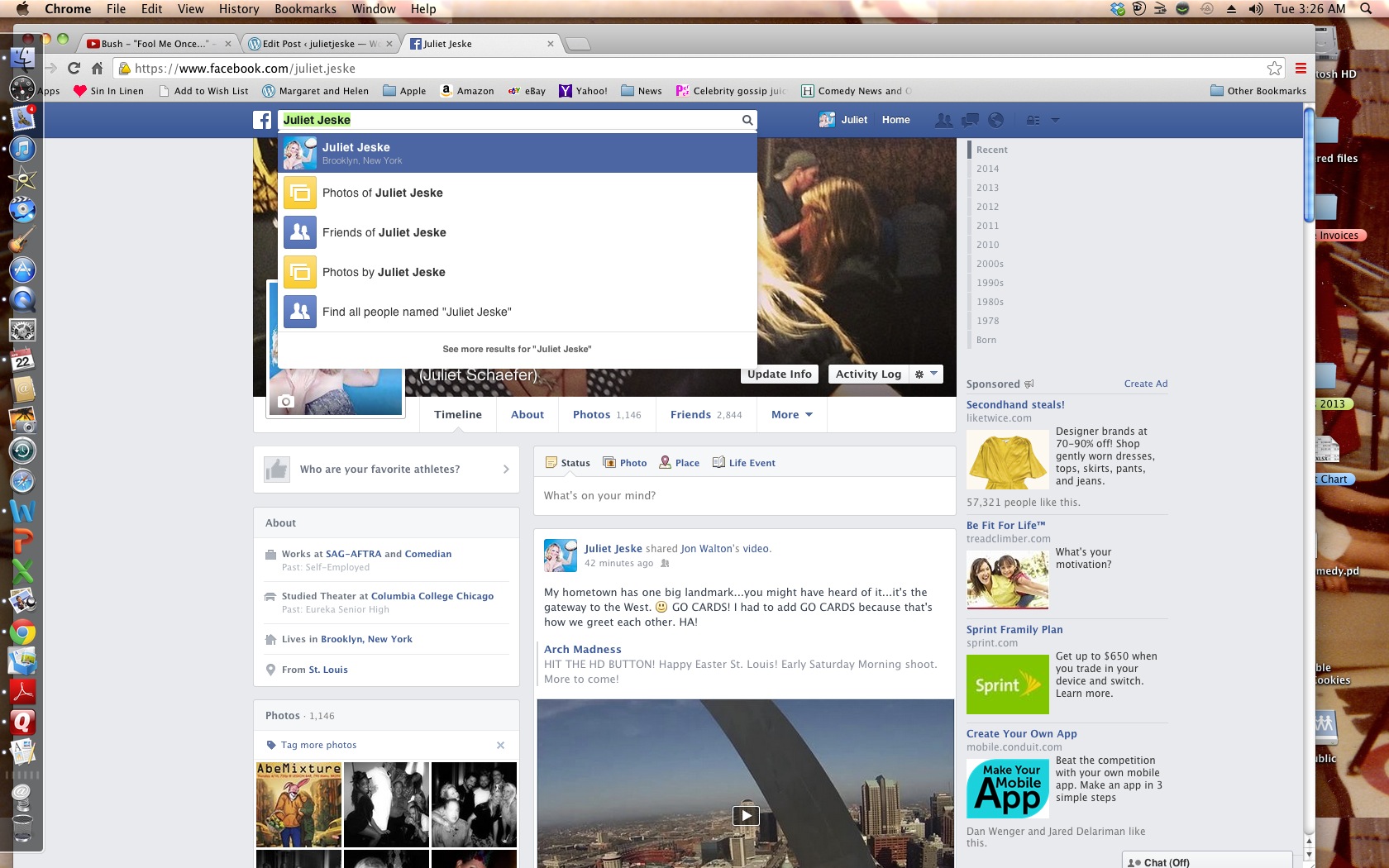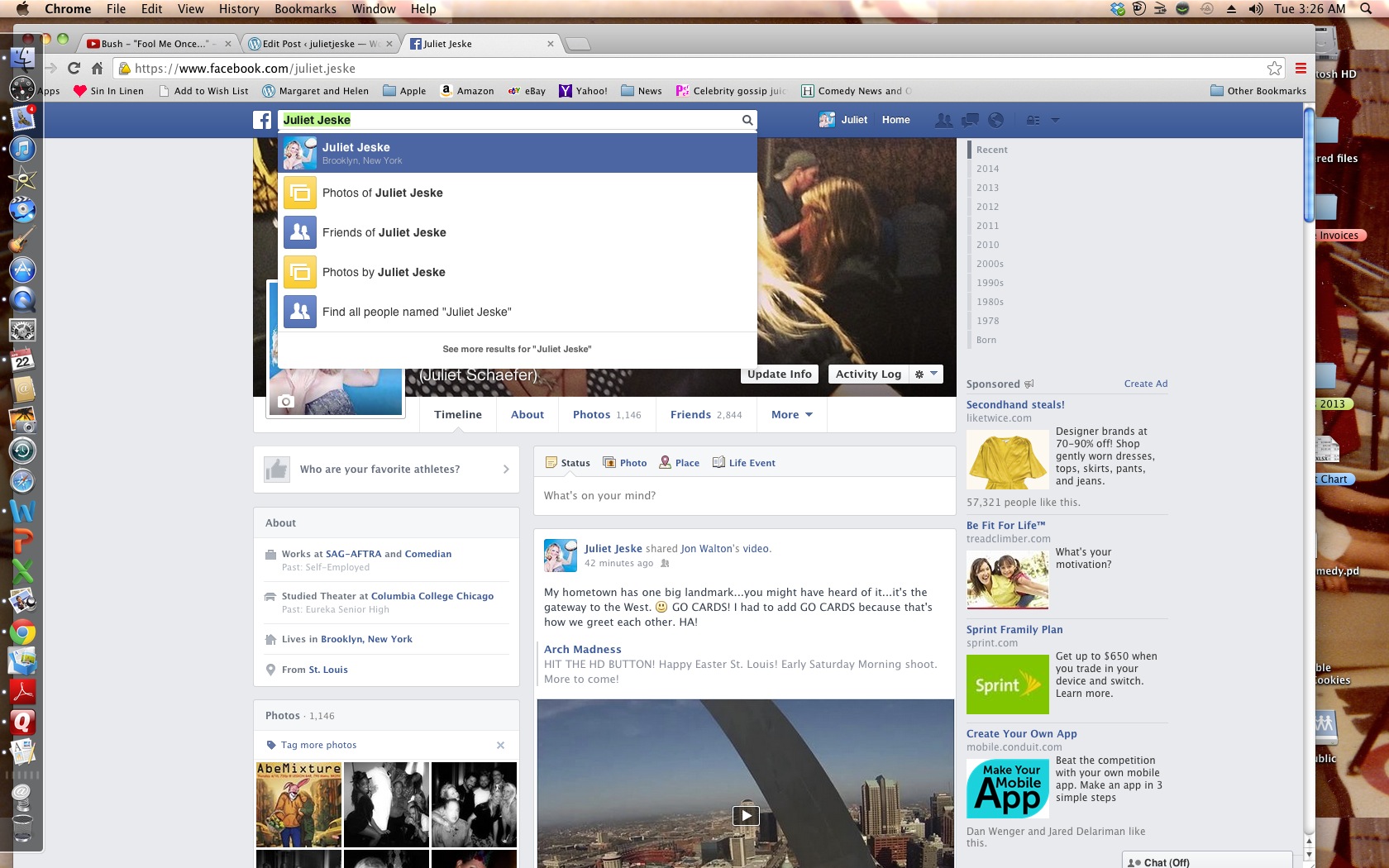 If you select that, then you can search for photos the person has "liked" in the past year.

I won't include any actual photos as to protect the privacy others.  But trust me, Facebook will show you quite a bit.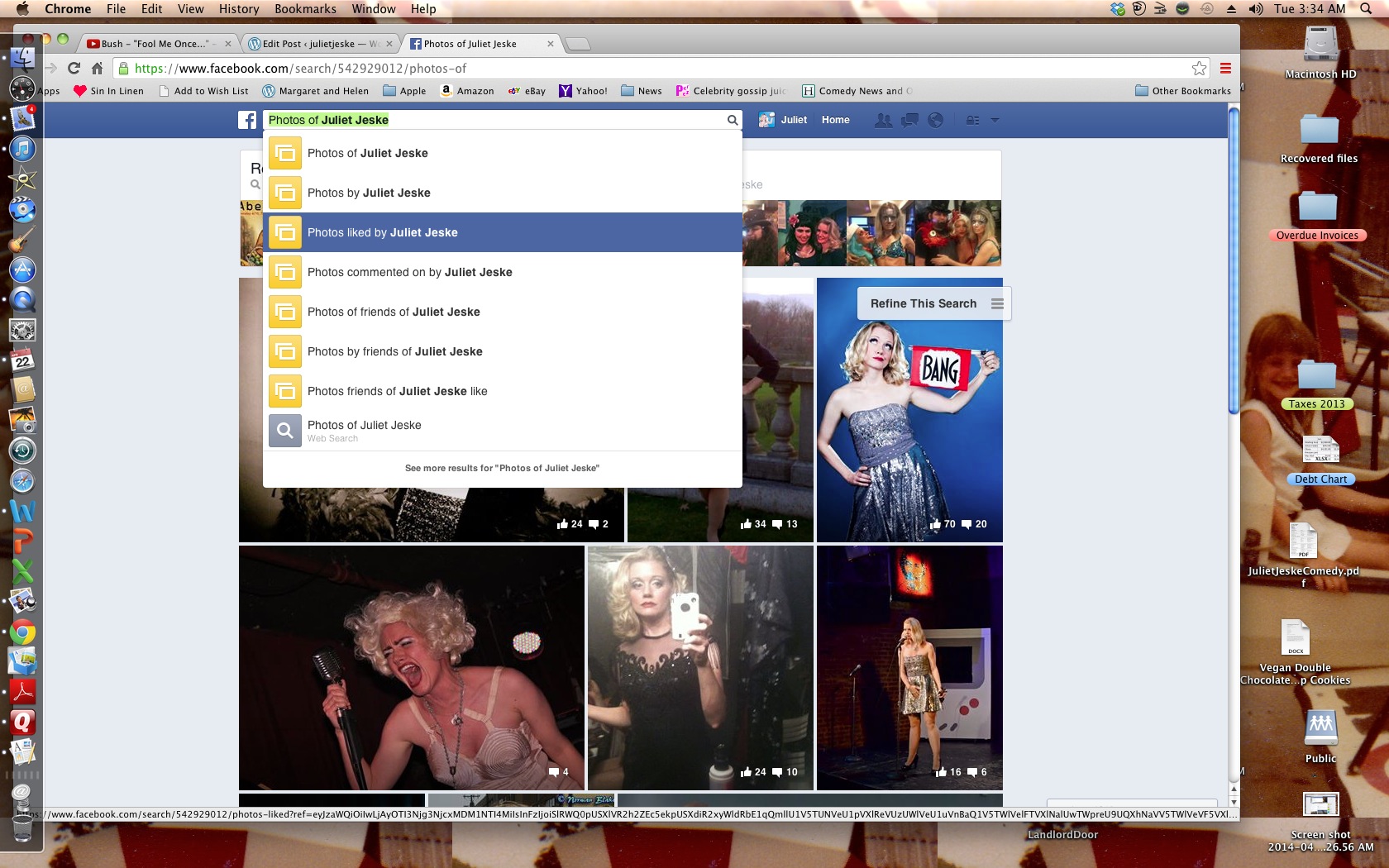 Another option in the same pull down menu is "Photos Commented on by (Person's Name)"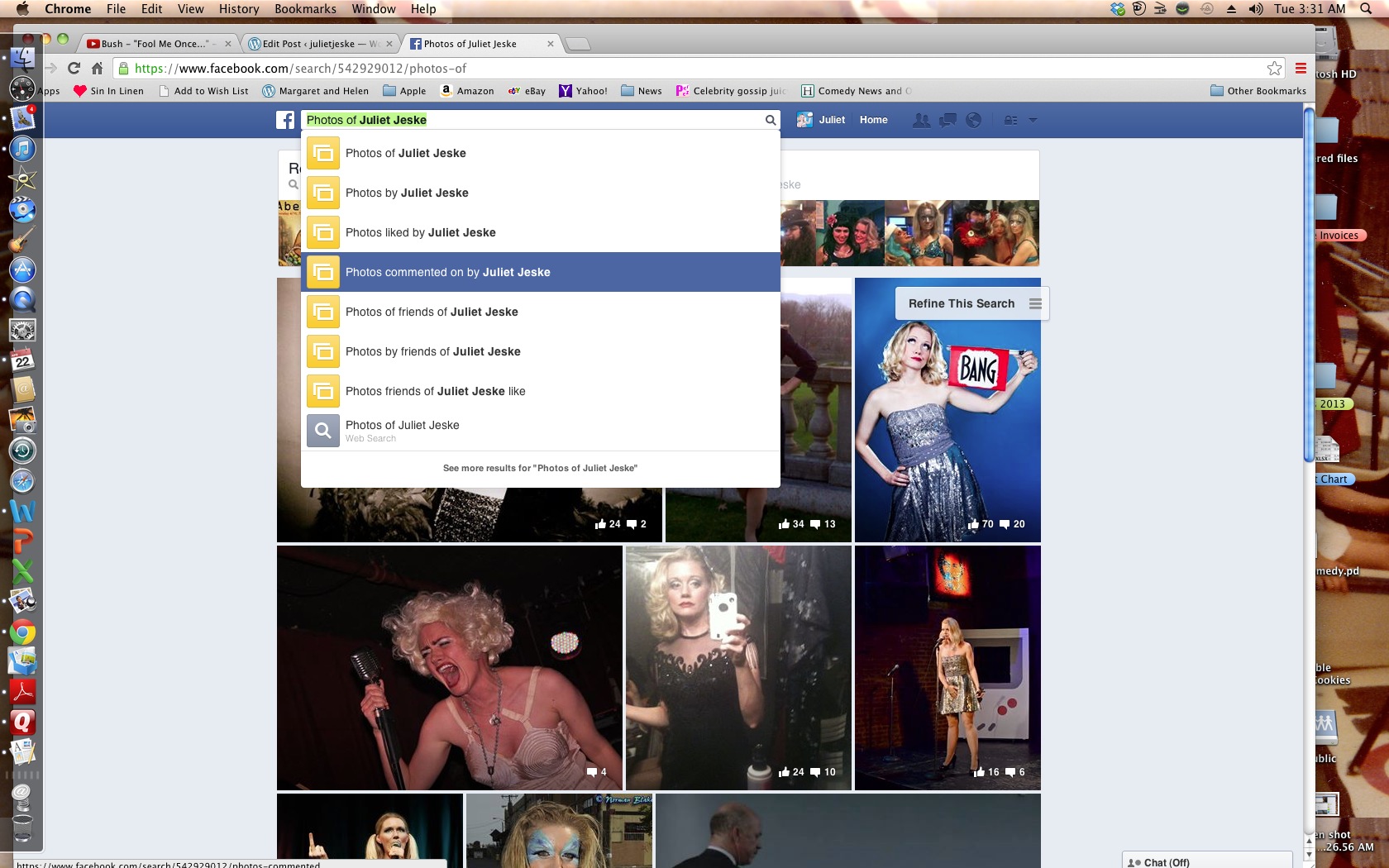 Now of course, if your significant other is just liking another person's photos that doesn't mean much.  BUT if all of their likes are gorgeous, women or hot guys….you might want to keep digging.  The comments they make are even more revealing.  Again, one comment, or one photo is no big deal, but if you find an overwhelming pattern or hundreds of examples, that's a reason to worry.  The handy thing about Facebook is that it dates nearly everything.  So an excuse about correspondence being ancient history, is easily debunked.
What I don't recommend – making fake profiles and trying to friend people under false pretenses to find more dirt.  If you're doing that, then you're almost as bad as the cheater.  You shouldn't lie and use other people to get information about your partner. You never know how you could unintentionally hurt someone else, and honestly you probably won't have to go to such extremes.  Most people aren't that skilled at hiding their philandering.
INSTAGRAM
Do a hashtag search of your partner's full name.  Trust me, you'd be surprised what you might find.  I did this once with a man who was trying to hook up with me.  When I did the hashtag search I found a photo of him with another woman. They looked very much like a couple.  I clicked on the photo and then it was even more obvious that not only was this his girlfriend, but they had been dating for a fairly long time.  On his account, he didn't have a single photo of her.  He had also neglected to feature her anywhere on his Facebook, or even mention her once.  I felt sorry for her, as half of her account seemed dedicated to this relationship.  When I confronted him about it, he admitted everything.
You could also hashtag nicknames, or search for the name of a person you think might be involved with your partner.  Some more savvy users could block you from their account, but they're only going to do that if they suspect your looking for information.  In most cases, if your partner is cheating on you, the person he or she is sleeping with might not even know you exist.
TWITTER
Most people wouldn't be this stupid, but former Congressman Anthony Weiner thought absolutely nothing of sending obscene photos to a user on twitter. You can scan through your partners tweets to find conversations he or she might have had with other users.  Twitter isn't even remotely private, so most skilled cheaters wouldn't think of having incriminating discussions on that platform, but it's worth the look.  If you see the same user constantly engaging your partner, and you already suspect that person, it could just add to your pile of evidence.  Yes, Anthony Weiner was this stupid…he thought sending this photo via twitter was a good idea.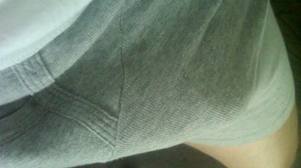 EMAIL
Nowadays most people have passwords on their computers and other devices.  But the passwords usually take a few minutes to click in, if your partner just used his or her email you might be able to search it with no problem.  I don't recommend doing this unless absolutely necessary.  Hacking into another person's email is highly unethical but if you are 99% sure that there is infidelity going on, and you need solid proof, there might not be any other way.
INTERNET HISTORY
A more savvy cheater knows to hide their viewing history when surfing the net.  However, people get lazy and forget to do this all the time.  I've met countless men and women who found out their spouse was cheating simply by checking their internet history online.  Visits to dating or hook-up sites are especially difficult to explain, you might even find their profile.
*Anything online leaves a trail, all written correspondence is subject to screen shots and photographs.  So email, text messages, twitter, blogs, etc. are all proof your partner is not being honest with you.
Always when in doubt use common sense and logic when dealing with a possible cheater.  There's another old saying:
"If it looks like a duck, and quacks like a duck, and walks like a duck, it's a duck" 
Your partner is not being forthcoming about your relationship – they never mention you on social media
You haven't met their friends or family
They are overly secretive in general, they tell you very little about their background or personal life
They are constantly breaking dates at the last-minute
You never go out in public
They always have strange elaborate excuses for some of their behavior
They are hyper secretive about their phone, email use, or internet searches
They accuse you of cheating, or need to know your whereabouts at all times – cheaters often suspect their partners.
They have relationships with opposite or same-sex partners that seem too intense or obsessive for a normal friendship
These are all huge red flags, that you're dealing with a cheating partner.  DON'T LIVE IN DENIAL!  Use the cognitive part of your brain to drown out the fluttery, irrational, romantic emotions and learn the truth.  Everything you love and cherish could be a stake, don't let someone treat you like a fool.  From my own personal experience with this, I have no regrets about finding out the truth in my marriage.  Both my former spouse and I are better off, and now we can both live our lives authentically.
Related Articles
My website www.julietjeske.com
Follow me on Twitter https://twitter.com/JulietJeske
Add me on Facebook Juliet Jeske Facebook Fan Page
Please follow and like us: