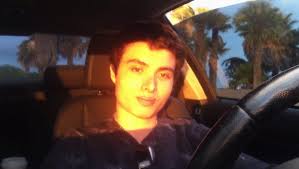 A couple of days ago a 22-year-old named Elliot Rodger went on a killing spree.  He stabbed his three male roommates, and shot at least six other victims before taking his own life.  His intended victims were women who had spurned his advances. The son of a Hollywood director, he went out in a theatrical fashion, releasing several youtube videos before his death.  One was a confession, the others were video diaries meant to convey his loneliness and pain.  What they showed was an extremely socially awkward man, with a grandiose ego and enormous sense of entitlement. He also left a 140 page manifesto filled with self-pity and cries of his overwhelming victimization.  Quotes from a transcript from one of his videos:
I don't know why you girls aren't attracted to me. But I will punish you all for it. It's an injustice, a crime because I don't know what you don't see in me. I'm the perfect guy and yet you throw yourselves at all these obnoxious men instead of me, the supreme gentleman.

On the day of retribution, I am going to enter the hottest sorority house of UCSB and I will slaughter every single spoiled, stuck-up blond slut I see inside there. All those girls that I've desired so much. They would have all rejected me and looked down upon me as an inferior man if I ever made a sexual advance towards them. While they throw themselves at these obnoxious brutes.
He repeatedly spoke of women as if they were objects.  In his mind a beautiful blonde was no different than his flashy BMW or an expensive watch   The concept of women as human beings with their own feelings, dreams and desires seemed lost to him.  A young man of great privilege, he saw himself as the ultimate victim just because the women he wanted, didn't want him back.  It's fairly obvious this man had deep-rooted emotional problems and mental illness but what struck me about him was his sense of entitlement.  He felt he deserved to have sex with whatever women he wanted to simply because he thought he was more worthy than other men.
Some will say this is an isolated incident of a deranged or mentally ill person.  I can't help but see a pattern.
Just yesterday it was revealed that school officials were caught destroying evidence in the infamous Stubenville rape case.  Llast week a girl was stabbed to death for spurning a date to prom.  Another young woman killed herself after being cyber bullied for making an amateur porn video.  A college Freshman at Duke University was also "outed" and harassed for working a porn actress.  A few months ago a 14-year-old rape accuser was bullied in her community to the point that she attempted suicide.  Her family's home was later burned to the ground under mysterious circumstances.  In March the US Army's Top Sexual Prosecutor was accused of committing sexual assault himself  In Florida a man drove up to a 14-year-old girl and offered her $200 to have sex with him.  When she refused he violently physically assaulted her and then ran her over in his car several times.  A Texas man was acquitted of murder after he shot and killed a prostitute who refused to have sex with him.  He argued the death was justified because he was trying to retrieve "stolen property."  There are so many other examples that I could literally fill several blogs with graphic account after graphic account.
In the past few years politicians have repeatedly attacked women's reproductive rights, even to go as far as to try to outlaw many common forms of birth control.  There was a bill introduced in Georgia that would have required police investigations into miscarriages.  Then of course there was Representative Todd Akin who argued that pregnancy a result of a rape was quite rare.
I seems to be, first of all, from what I understand from doctors, it's really rare. If it's a legitimate rape, the female body has ways to try to shut the whole thing down.
Misogyny is alive and well in the United States.  They even have their own chat rooms and websites dedicated to their cause.  Eliot Rodger was Men's Rights Activist or MRA.  He subscribed to several men's rights channels on youtube. He was an active member of the PUhate forum, an anti-woman site that's since been taking down.  The Southern Poverty Law Center has a list of some of the worst groups.  Most rail against the evils of manipulative cruel women and paint men as the ultimate victims. Common themes include: women should go back to their traditional roles, all statistics about women being victims of violence are fabricated, men are entitled to sex, women are inherently manipulative and evil but above all women are objects.
It seems Rodger immersed himself in this community and mindset.  He even went so far as to include much of their terminology in his manifesto and video rants.  Instead of getting proper mental health care, joining these groups was like putting a match to a stick of dynamite.  The misogynist rhetoric acted like a chorus in his head supporting his own beliefs of victimization.  To him being a 22-year-old virgin was the worst possible existence.  Since he was from a wealthy family, he could have easily paid for sex with a prostitute, but that wasn't good enough for him.
Of course the vast majority of men in the US do not hold the same opinions or values as these groups. These forums are dangerous because they feed the flames of disenchantment and disillusionment in frustrated men. Women are wrongfully scapegoated as the source of their misery and isolation. We can ignore these echo chambers and hope they go away, or we can expose them for what they are – hate groups.  What makes this whole movement even more infuriating is that men still hold every position of power and wealth in this country.  Even though we make up 51% of the population women hold  18.3% of House seats and 20% of the US senate.  Women only make up 4.8% of CEO's of Fortune 500 companies.  Yet with such lopsided representation, and disproportionate distribution of wealth and power, according to these Men's Rights Activists – women have every advantage over men.
Of course there are militant feminist groups on the internet that are full of diatribes about the evils of men.  But where are the news stories of men being murdered simply based on their gender?  Where are the cases of men being singled out and shot for no other reason than being men.  For every female serial killer like Aileen Wuornos there are hundreds of male counterparts.  90% of all homicides are committed by men in the United States. Why is it that rape accusers are often harassed while alleged rapists so passionately defended?
II wish we lived in a world where women weren't gunned down on the street, raped, harassed, cyber-bullied or treated like property.  Even though it's 2014 we still a long way to go.  Ignoring this movement will only make it grow.  If we refuse to take it seriously there will be more Eliot Rodger's who decide that someone's wife, daughter or sister needs to die, simply because she's a woman.
Related Articles
My website www.julietjeske.com
Follow me on Twitter https://twitter.com/JulietJeske
Add me on Facebook Juliet Jeske Facebook Fan Page
Please follow and like us: