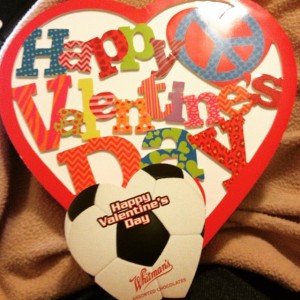 1. CHEAP CANDY DAY – I actually think this needs to become a real holiday that happens twice a year.  Once on February 15th and then again on November 1st.  I know the candy makers will figure this out and find a way to screw us, but for now they are both splendid days indeed!
2. No gifts to buy! –  What does a woman  buy a man for Valentine's Day? Most just want sex, and well that's usually going to happen anyway….anything else just seems silly, yet the expectation is there.  For men the whole gift/night to remember situation is not only daunting but expensive.  In New York City a couple could blow $1,000 on an ice cream sundae, and that doesn't include the Broadway show tickets!
3. No pressure to act like you're having a great time when you're not – We've all been there.  Our partner's plan out some elaborate event and absolutely everything is dreadful.  The restaurant is too crowded, the waiter is mean, the food is lousy, the concert is terrible, the moonlight carriage ride is smelly and the driver is rude.  Meanwhile you have to pretend like it's the greatest night of your life, because you don't want to her anyone's feelings.
4. No poorly timed monthly visitors – There's nothing worse than planning a big romantic evening only to have Ms. Flow show up early.  Sure you can work around it but she really does ruin the mood, especially if she brings along her friend – Ms. Cramps.
5. No annoying flower battles at work – I don't have a traditional job, but I remember when I did how the never-ending bouquets would come pouring in the office all day long.  It seemed like the bigger the flower arrangement the more precarious the relationship. Sure the married women with 20 years under their belt would get a sizable display but the couples that kept breaking up only to get back together again always included several mylar heart-shaped balloons.  Then there was always some sad sack in the office who had a boyfriend but who didn't get anything.  She'd tell everyone it was waiting for her at home, but we knew that her boyfriend would break her spirit as much as her soul-crushing job did every day.
6. No expectations of some life-changing event – No one is going to propose to me! I'll never have a joint bank account again!!!  I won't have to worry about checks bouncing because my husband just blew several hundred dollars on something stupid!  I'm sure plenty of divorced men can relate to this one.  Blowing money on stupid purchases is a universal human trait!
7. No awkward sexual experiences – Sometimes couples like to push the envelope on the big day and take things too far, only to find themselves in compromising or embarrassing situations.  The porn actors make it look so easy, but they've got multiple takes, a crew to help them with angles and lighting. Ask anyone who works in film or television production, it's all about good lighting.
8. No drunken crying spirals of despair – With expectations so high, also comes disappointment.  Anything could happen. What if you happen to find out  that he's cheating on you?  Or that you're NOT getting engaged even though he's been hinting at it for months?  Or what if in the middle of the salad course, you just look into his eyes are realize you can't stand him, he can't stand you anymore and you'd both be better off on your own.  These things happen.  Then you end up slamming a few back, and wind up calling your best friend at 3 AM to tell her that everything you believed in was a lie and that the universe is collapsing in on you.
9. No forced emotion – There's nothing worse than hitting Valentine's Day with a guy you've just started dating.  Should he send flowers or will it make him look overeager?  Should you make big plans, even though you haven't even been to his apartment yet?  Should you buy him something or will it make you look like a stage 5 clinger?  If you've only been on three dates or less, just act like February 14th is a day like any other and skip right over it.
10. FREEDOM – You can REALLY just watch Netflix and chill.  Throw on a onesize, order some Chinese takeout and watch a marathon of Breaking Bad, The Making of a Murder, or maybe season 2 of Orange is The New Black again.  Everyone knows season 2 is the best season.  You don't have to get dressed up, impress anyone, fake an orgasm, or act like you care about some dumb ass chef's special that you know is overpriced and overrated.  You can dance around in footie pajamas and stuff your face with General Tso's Chicken if you want. (I eat the vegetarian version)  It's your day!  LOVE IT!
Related Articles:
My website www.julietjeske.com
Follow me on Twitter https://twitter.com/JulietJeske
Add me on Facebook Juliet Jeske Facebook Fan Page
Please follow and like us: