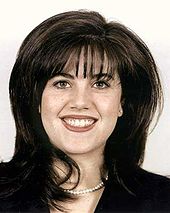 Last week was apparently the 20th anniversary of the Lewinsky-Clinton scandal.  I'm not sure why we need to celebrate or commemorate such a fiasco but this morning I discovered this tweet by Eve Peyser, a staff writer at Vice.com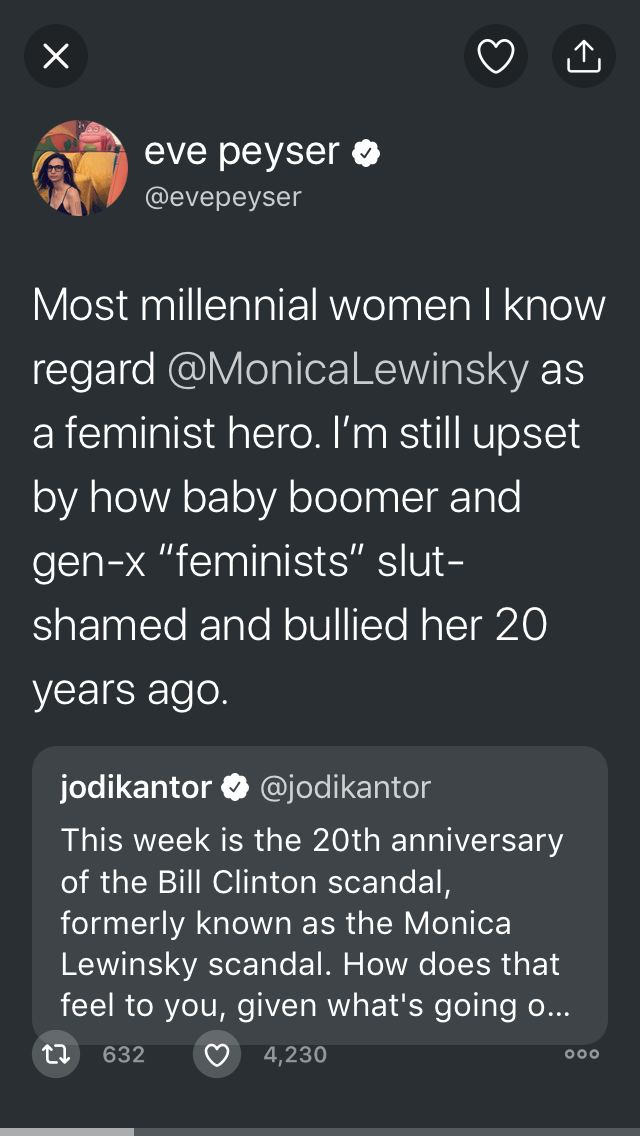 There's a lot in this one tweet.  For starters I don't how it's very feminist to make negative blanket statements about two entire generations of women.  To encompass all baby boomers and generation X women in one sweeping generalization like that is really condemning most women in the United States.
I'm not a fan of broad generalizations about any group, and I have a more nuanced view of the Lewinksy scandal so this was my response to that tweet.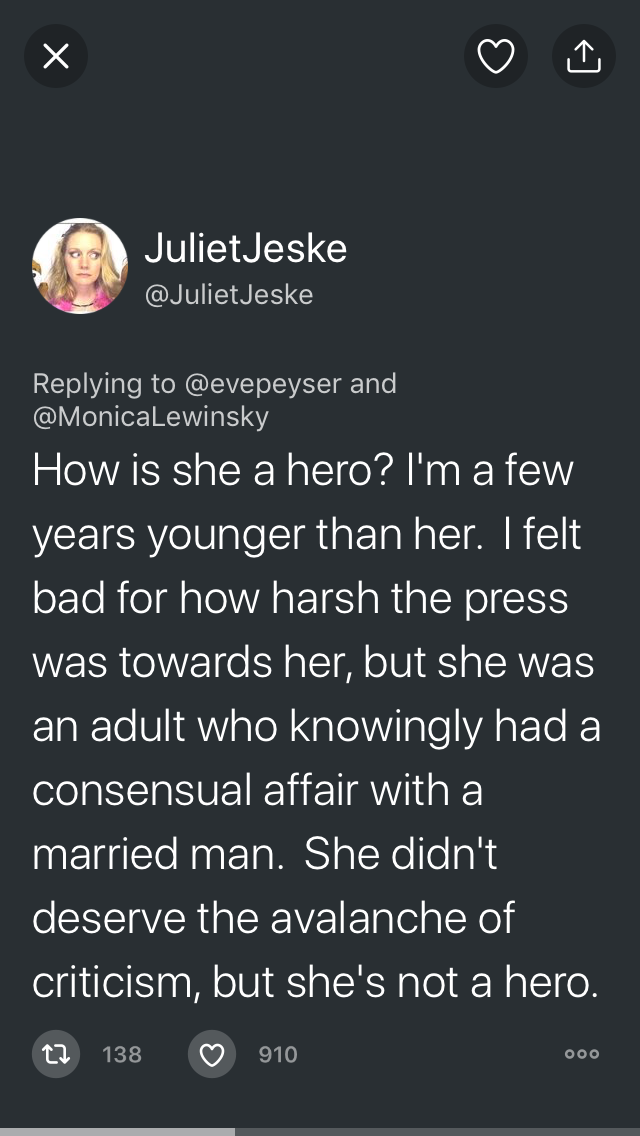 (I actually made a mistake when I wrote my tweet.  For years I always thought I was slightly younger than Lewinsky.  I only discovered when researching this article that Monica and I are actually the exact same age.)
For starters I didn't learn about the Lewinsky-Clinton scandal from textbooks and news articles.  I lived through it.  I won't delve into the minutia of the entire ordeal and I might get a couple of small details wrong but the basics go like this.  A young privileged woman (Monica Lewinsky) open and aggressively pursued a married man (President Bill Clinton) who had a long history of infidelity and womanizing.  The GOP leadership was already investigating Clinton for a past real estate deal when they stumbled upon evidence of the affair.  When Clinton denied it, Republican representatives filed for articles of impeachment on grounds that he'd lied under oath.  Every torrid sexual detail was exposed.  Several horrible people profited from tell all books and tabloid exclusives, but when the dust settled Clinton, although permanently tainted from the scandal, stayed in power.  In the upcoming years several of the men who lead the charge against Clinton, ended up in far more lurid sex scandals of their own.
Lewinsky received a disproportionate amount of negative press for her role in the affair.  She was called everything from a slut, whore, home-wrecker, and opportunist.  The press mocked her weight, clothing, and appearance.  Her personal life was dissected and analyzed and nearly everything written about her was negative.  Intimate sexual details between her and the president were printed for all of eternity in the special prosecutor's report.  Her face graced the cover of newspapers and magazines for months.  Lewinsky tried to profit off of her notoriety by selling her own line of handbags, a venture which quickly failed and did nothing to improve her image.
After millions of tax dollars were spent on the investigation, the whole mess ended up backfiring for the GOP as the general public sentiment could be reduced to the simple question:
Was all of this necessary for a blow job?
Now back to the idea of Lewinsky being bullied and slut-shamed.  Regarding the charge of bullying.  Although the press was overly harsh toward her, most women I knew had mixed feelings.   Social media didn't exist at the time and none of us could really have done anything but sit back and watch the train wreck.  I'm sure Lewinsky got mountains of hate mail but no one could tweet at her, make video rants about her, mock her online, share unflattering photos of her, or dox her personal information.  The general public wasn't nearly as interactive in such affairs in the 1990s.   We just didn't have the means to get involved.
As far as slut-shaming is concerned, that's also a bit complicated.  There is a faction of third wave feminism that promotes the idea that anything sexual a woman does should be championed or celebrated.   For centuries female sexuality has been viewed as evil or something to be controlled.  There is nothing wrong of course with two adults in a consensual sexual relationship.  Things get blurry however when sexuality crosses over into unethical behavior.   A person can think whatever they want about the institution of marriage, but they don't exist in a cultural vacuum where everyone shares the same belief system.  Knowingly having an affair with a married person is a high risk behavior.  When one enters into an adulterous relationship with someone they know is married they are suddenly involving other people without their consent.  Although they might get away with their affair, it could also have extreme negative consequences for both the spouse and children of the person they are sleeping with.  Infidelity is a selfish and unethical act that involves lies and betrayal.  Deception destroys trust in any relationship, and can cause untold damage to the faithful spouse.  Two atheists can tear each other apart in a marriage without the concept of religious sin or morality ever entering the picture.  Simply put an extramarital affair might be fun for the two people involved in it, but it might also wreck emotional havoc on an entire family.
I also don't think Lewinsky is the best example for the #MeToo movement.  Clinton never threatened Lewinsky's job.  There's no evidence that he did anything of the sort.  He never told her he'd destroy her career, harm her family or ruin her reputation if she didn't go along with his advances.  She has never testified to as much, and there's nothing in the Starr report that would indicate it.  Lewinsky was much younger than Clinton, but he didn't exactly coerce or force her.  If anything she was a starstruck girl who got a rush and sense of self-importance by having sexual relations with a very powerful man.  She openly bragged about their affair, about flashing her thong underwear during meeting with him.  She also boasted about "bringing her presidential knee pads to the White House" before she even met him.  Lewinsky probably did have emotional scars from a previous relationship she'd had with another older married man.  She probably had a warped view of relationships with older men because of her past.  Clinton had a long history of inappropriate behavior with women.  It was unprofessional and foolish to get involved sexually with a young subordinate.  As the POTUS he had more important things to worry about.  He used poor judgment, lied to his wife, lied to the American people and ruined his own legacy in the process.  He had far more life experience and more at stake, and should have used restraint.  He wasn't the first president to have an extramarital affair, and Lewinsky if far from the first woman to have sex with one.
What also compelled me to reject the label of "feminist hero" toward Lewinsky are Lewinsky's own words and actions since the scandal ended.  At first she tried to ride her notoriety with a line of handbags.  That wasn't exactly a bold step forward for feminism or women's rights.  It was a crass attempt to cash in on the media attention.  That venture failed quickly and she faded into relative obscurity.  When she returned to tell her story many years later she was contrite.  She took ownership of her mistakes and failings.  She started a platform to raise awareness of the dangers of public humiliation in the media.
The irony is of course is that although she was humiliated by a vicious press, Lewinsky's actions also caused great humiliation to Bill's wife Hillary and their teenage daughter Chelsea.  Hillary was far from unscathed from this whole mess.  Although Hillary has been long-suffering through Bill's many dalliances she chose to stay in the marriage and forgive her husband.  She has also bore the burden of his actions and poor choices.  Bill's past with women was constantly brought up during her failed presidential attempt.   Her moral center was questioned even though she'd done nothing wrong but try to defend her husband.   As much as Lewinsky might feel she has to endure a permanent scarlet A on her chest for her youthful mistakes, Hillary also wears the badge of enabler, doormat, or frigid shrew.
Lewinsky didn't improve the plight of women, and she didn't do anything heroic through her extended ordeal.  She did have enough personal strength and insight to take responsibility for her actions many years later.  She's also tried to improve the lives of others through her anti-bullying campaign.  If anything she's a survivor who tried to use her personal pain for good, but to call her a hero is a bridge too far.
If millennial women are searching for an actual feminist hero of the #MeToo movement the choice should be obvious.  Just a few years before the Lewinsky-Clinton scandal a young attorney testified that she was repeatedly sexually harassed by her boss Clarence Thomas.  She spoke up because he had just been nominated to a position on the supreme court.  Anita Hill sat alone in front of the all male senate judiciary committee and the world to describe her ordeal in brutal detail.  During her brave testimony she was viciously picked apart by the press and Thomas's supporters.  She also endured an avalanche of scrutiny of every detail of her life, background and personal relationships.  She went through as much grief as Lewinsky if not more.  In the end Clarence got his seat on the court and Anita Hill never changed her story.  At time of her testimony 60 percent of Americans believed Thomas over Hill, yet after her testimony, the number of women filing harassment claims with the Equal Employment Opportunity Commission doubled.  Anita Hill is a feminist hero in every way possible, in fact she's a feminist superstar.
My website www.julietjeske.com
Follow me on Twitter https://twitter.com/JulietJeske
Add me on Facebook Juliet Jeske Facebook Fan Page
Please follow and like us: