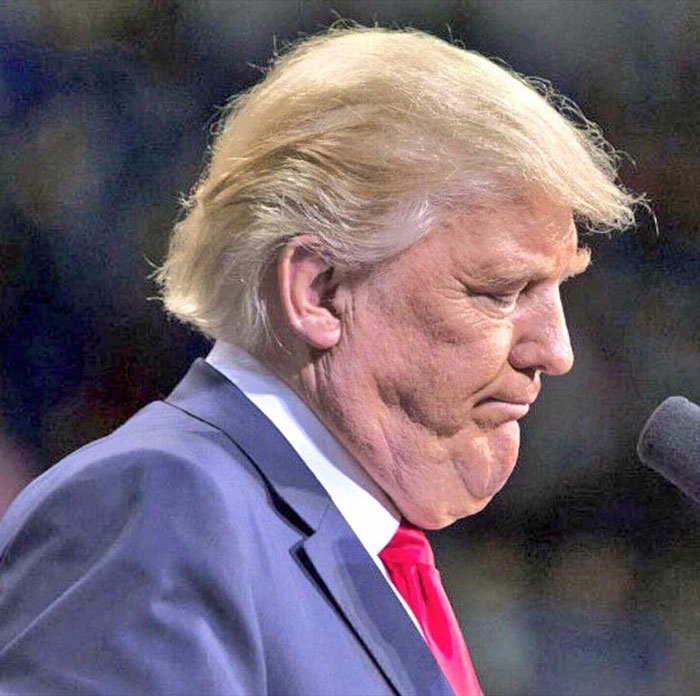 Dear Mr. President,
I've heard you like bulleted lists so I'll try to keep this brief.  You said the following regarding the recent racially motivated violence in Charlottesville, Virginia.
We condemn in the strongest possible terms this egregious display of hatred, bigotry and violence, on many sides. On many sides. It's been going on for a long time in our country. Not Donald Trump, not Barack Obama. This has been going on for a long, long time
I'm not sure what you mean by both sides, or many sides for that matter.  I'm just going to ask you some questions.
Do you know a time in US history when black men enslaved white men?
Has a white life ever been considered 3/5th the value of a black life?
Has there ever been a time when white men were routinely rounded up and hung by their necks from trees for offenses as minor as "whistling at a black woman?"
Was there a period in our history when law enforcement became infiltrated by black men who turned a blind eye to violence against white men?
Have white folks ever been beaten or bullied at the polls by black people when they've tried to vote?
How often have white families woken up in the middle of the night to broken windows and flaming crosses on their front lawns?
Has there ever been a time when a white child needed to be surrounded by armed guards in order to attend a school full of black children?
Has there ever been a single incident of a white person being dragged out of a swimming pool only to see it drained and sanitized to make it suitable for black patrons?
How many white churches have been burned to the ground, sometimes with people inside of them by angry black gangs?
I know you won't bother to research this so I'll give you the answer.
None of those things have happened to white people at the hands of black people.  NONE OF THEM.
Everything I just wrote has been inflicted on black Americans.  I'm really only scratching the surface here as I could literally write a book on this subject.  I'm not going to focus on the many things our government has done to harm the black community.  I'm ONLY going to focus on what groups like the KKK and other white supremacists have done to further marginalize, terrorize, intimidate and demean black Americans.  I'd lend you a copy of one of many studies on the history of racial violence in this country, but I know you don't really read.
So again I'll break it down in bulleted list form.
There is NO EQUIVALENT OF THE KKK IN THE BLACK COMMUNITY.  You can probably find small fringe groups that espouse some type of horrible rhetoric but they don't have any real influence.  They have no history of atrocities.  They haven't left generations of whites in the South to fear for their lives and safety.
The political spectrum includes radical fringe groups with hateful ideas yet none have left a body count as large as the KKK.  Here's a link about lynching, from your favorite paper the "Failing NY Times"  I know you won't read it, so I break it down for you.  White people killed black people, mainly because they were black.  Sure they hanged some white folks too, but the majority of their victims were black.
The Black Lives Matter movement DOES NOT promote the idea that black lives have more value than white lives.
White supremacist DO promote the idea that people of European ancestry are a superior race and every other ethnicity is sub-human.
White supremacists DO have a history of murdering and terrorizing millions based on their ethnicity: Jews, Romani, Slavs, Poles, Ukrainians, and of course black people.  They also rounded up Catholics, Jehovah's Witnesses, LGTB men and women, disabled people, and anyone they deemed a political opponent or threat.  The Nazis in Europe are not that much different from the Neo Nazis in the US.  They use the same rhetoric, symbols, and flags so I don't see any reason to differentiate them.  The term Neo means new.  I'm sure you're learning a lot here.
Neo Nazis aka the Alt Right, White Nationalists, White Supremacists, whatever you want to call them HATE JEWS by the way.  Your favored daughter, your son-in-law, three of your grandchildren and your long-term attorney are all Jewish.  If the Neo Nazis got their way all of the Jews would be forced out of the country, thrown in a camp, or killed.  I'm sure you really wouldn't want to support any group that would do that to your family right?
So again if you are comparing the legacy of white supremacists and black Americans there is no comparison.  One group has been victimized, terrorized, and exploited while the other has left nothing but ignorance, bigotry, violence and death.  You might want to acknowledge this difference before things get much worse.  Do you really want to be known as the Nazi sympathizer president?
Most decent Americans on all sides of the political spectrum reject the ideology of the Alt Right (Neo Nazis).  If you want to shrink your base to the most radical voices go ahead.  The rest of us will defend our fellow citizens.  We will fight back without using violence.  We will expose these monsters for who and what they are.   We will march in the streets, pester you on twitter, call our reps and senators until we break the congressional switchboard.  Oh and we will come out in droves for the midterm elections.  We will RESIST.
Please follow and like us: