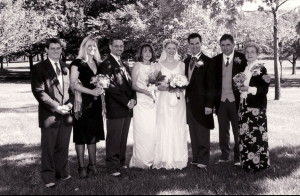 Imagine finding out your spouse was cheating on you, not just with one partner, but with several for the duration of your marriage. He didn't come to you on his own and confess.  You discovered the truth after suspecting for years that something wasn't right.  After unearthing hard evidence of his infidelity he reveals he wasn't even faithful while you were dating.  The entire time your partner was having these illicit trysts, he exposed you to sexually transmitted diseases including HIV.
You decide to leave him.  What follows is a vicious battle for custody of your children, your home, and every last possession between you.  He tires to refuse to pay for anything including child support.  Your husband even loses his job mid-divorce in an attempt to avoid his obligations to you and your children.  He uses every trick in the book to ruin you financially, and your divorce drags on for years.
Instead of taking responsibility for his actions, he blames you for the destruction of the marriage.  He cites your lack of emotional support for his infidelity.  If you had only understood and loved him better, he wouldn't have gone looking for love and sex from others.
When your friends and family find out about his betrayal, your charismatic ex manages to spin it to his advantage.  He tells everyone that he was a loving and supportive husband.  He claims you knew of his many trysts and had some of your own.  Not only does your former husband get support from your friends, he's given accolades.  An entire community embraces and welcomes him.  Any past transgressions are instantly forgiven.
Meanwhile you go underground. To protect your children you bury even more secrets, make excuses, and continue to live a lie. If you try to talk about what's happened to you, your friends tell you to "have some compassion" for you ex.  Although some see the truth, few truly understand the extent of his lies, betrayal and profound selfishness.   You're told to have empathy for the man who just ruined your life, because now he's openly gay.
Now take out the confused sexual orientation. Let's say a man cheated on his wife with multiple women for the entire marriage.  Would anyone tell the wife to have "compassion" for her ex-husband? Would people criticize her for not showing empathy to his lack of respect, impulse control and selfishness? I doubt it. Why are straight spouses supposed to instantly forgive a spouse given these circumstances?
What if both partners were gay. If a man was cheating on his spouse throughout the entire marriage then embroiled him in a nasty divorce would anyone ask the spouse to have compassion for his cheating ex? Could the cheater wrap himself in the flag of his orientation and say that he couldn't help his actions because he was gay?
In a politically correct world these situations would be clear-cut.  The oppressed homosexual wouldn't do anything cruel or self-serving and the straight spouse would be understanding and empathetic towards his or her closeted spouse.  Real life is not so neat and tidy.  Is it politically correct when a man loses access to his children because his cheating spouse relocates with her new partner to another state?   Is it politically correct when a woman kills herself after she finds out her cheating husband is gay?   Is it politically correct when a cheating spouses gives his wife HIV?
No one is advocating for closeted spouses to stay in the misery and torment that is the closet. It is much better for everyone involved when people live authentic and honest lives. No one who is currently living a secret life should remain deceiving his or her spouse in order to try to spare them the pain and heartache of a divorce. Chances are the straight spouse will discover the truth and the damage will only be compounded.
I know how difficult these situations are because I'm a straight spouse.  Many straight spouses have been told by well-meaning friends to have compassion for their exes who treated them so callously and without much consideration.    There is pressure to instantly forgive every lie and transgression, no matter how egregious.  To many straight spouses, this forced forgiveness feels like a second betrayal.  The concept is even harder to grasp while in the middle of a nasty custody battle or vicious divorce.
A few of my critics believe that when I write about these doomed marriages that I am attacking all LGBT people.  Nothing could be further from the truth.  I love and support the LGBT community but I have a lot of conflicted emotions towards my ex-husband.  He is responsible for his own actions, and he does not represent every LGBT person or even every closeted gay man.  For some, saying anything bad about an individual LGBT person is somehow homophobic or politically incorrect.  Well no group is homogenous, and sociopaths, narcissists and selfish people can be of any sexual orientation.  LGBT men and women who openly deceive others to hide their true orientation do a huge disservice to the larger LGBT community. By hiding out they aren't exactly helping the cause of acceptance and equality. They are in fact perpetuating the myth that the only way a person can live a happy and fulfilled life is to pose as straight.
Many straight spouses discover in therapy that their exes struggle with profound narcissism.  A narcissist tends to not see other people as fully formed individuals but rather pawns or objects.  Narcissists lack empathy and usually take no responsibility for their actions.  In a narcissist's mind, they are the ultimate victims.  Therefore they see nothing wrong with deceiving another person, to protect themselves or gain social acceptance. Narcissism has nothing to do with sexual orientation.  There are narcissists of every socioeconomic background, sexual orientation and ethnicity.  I would bet that psychological profiles of many of these men and women, would be nearly identical to those who marry others for a green card, financial gain or career advancement.
Of course not all mixed orientation marriages are the same, and some closeted homosexuals who marry straight partners are not narcissists.  Some met their spouses when they were quite young, before they truly understood their sexual orientation.  A few closeted homosexuals are strongly pressured by their families and communities to marry a straight partner.   In some rare cases, medical conditions can suppress a person's sex drive enough to cloud their orientation.  Some mixed orientation marriages are open and honest from day one.  Just as there are many shades of the sexual orientation rainbow, the reasons behind mixed orientation marriages run a spectrum.
But given all that, no one has a right to assume all straight spouses have the same story.  When I and other straight spouses share our stories, we don't do it to trash the LGBT community or our exes.  We do it to help other people who typically blame themselves for their shattered lives.  We do it to help dissuade the notion that sexual orientation is something that's a lifestyle or personal choice.  We do it to show that encouraging LGBT men and women to retreat into "the closet" causes far more misery and suffering than to just the closeted person.
Hopefully one day soon we will move forward and marriages like mine and many others will become increasingly rare, but we aren't going to get to that truth by creating a new closet.  Straight spouses shouldn't have to create a false reality in order to protect their exes.  We will only arrive a new authentic way of living through truth, and many times our truth is not politically correct.
Related articles
My website www.julietjeske.com
Follow me on Twitter https://twitter.com/JulietJeske
Add me on Facebook Juliet Jeske Facebook Fan Page
Please follow and like us: