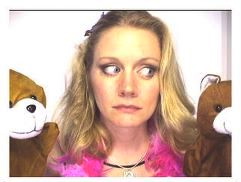 This is for everyone who tries online dating.  I'm going to write it from a woman's perspective, but I've heard numerous stories from men about this very universal problem.
On the first or second date a lot of guys assume the following
I'm madly in love with him
I want to have sex with him as soon as possible
I have an overwhelming desire to make-out or touch him
I've somehow had this long-enduring crush on him and FINALLY got up the nerve to ask him out
I'm completely sold, my date is the man of my dreams
I think he is my next husband, or I'm already dreaming of our nuptials
I just called my mom to tell her about how excited I am about this date
None of this is true.  I'm sure there are some women who really do think that when they go on dates with men they've met online.  There are always crazy people out there, but honestly most of women that I've talked to about online dating feel the following:
He doesn't look like a serial killer
He's alright, I hope he looks like his photos
I guess I could go out with him you never know
He sorta looks OK
He has nice eyes
He isn't allergic to cats and lives in Brooklyn
That's about as deep as it goes.  HONESTLY.  And this is usually what goes through my mind before a first date with a guy I met online:
Don't let this date stretch on forever
I can't spend a lot of money
I hope he isn't psycho
I'm not sure if I even want to go through with this
I don't want to put too much effort into this because most of these dates dont' work out
Please don't stalk me after this date
Maybe it'll work out and I'll go on date #2 with this one.
I actually do try to keep things positive, but this isn't my first time at the rodeo.  I keep my expectations nice and realistic.  So when I meet a man online and he decides to take things physical way too soon, I just hate him.  A hookup site such as Tinder or Adult Friend Finder might be quite different, but most people don't regard dating websites in the same way. If they are just looking for casual sex, they usually indicate it on their profile, or they should.  Because I've never had strong feelings towards a first date, I usually assume they don't have strong feelings towards me.  No one really knows if there is actual attraction or chemistry until they physically meet.
I have had guys grab my hands, or put their arms around me when I have no real attraction to them, and it just makes me uncomfortable and I'm never sure how to handle it.
Where does this misperception come from?  I'm not sure, but I think it's people of both genders assuming online dating is like regular dating.  When you were 20 years old, the sight of the cute boy in your biology class could make you weak at the knees.  The two of you would chat a bit and eventually the guy would finally make his move and ask you out.  Within hours you were cuddling in the booth of a diner asking about his favorite food, and his nickname in high school.  Online dating is just not like that. It's two total strangers who thought from a few questions and photos that they MIGHT be attracted to each other.  With online dating you don't even get the sense of physical chemistry you might get when meeting a guy in a bar.  It's just so inorganic and actually goes against our instincts in almost every way.
Sure we know beforehand that the guy isn't allergic to cats, lives near us and also likes goofy comedies, but at the end of the day that information isn't going to make us weak in the knees when we are around them.  I've equated the whole endeavor to a crap shoot.  Sometimes you get lucky after the first roll of the dice, but most of the times you are both out of luck.  So fear not if your date seems bored and you just want to go home 15 minutes into it.  It's not you, it's not necessarily your date, it's just random luck.  So gentlemen of online dating – please see these dates for what they are – two strangers just trying their luck at a seemingly impossible task. This isn't college and you aren't the cute boy in Biology class, but it's OK.  We can't go back to that simpler time in our lives, we just have to keep rolling the dice and hope that we eventually hit the jackpot.
Related Articles
My website www.julietjeske.com
Follow me on Twitter https://twitter.com/JulietJeske
Add me on Facebook Juliet Jeske Facebook Fan Page
I don't have a tip jar on this blog because I think they are tacky but if you would like to support this blog, please watch the following short video.  The revenue from these ads helps me set off some of the costs of running julietjeskeblog.com  Thanks for reading!
Please follow and like us: