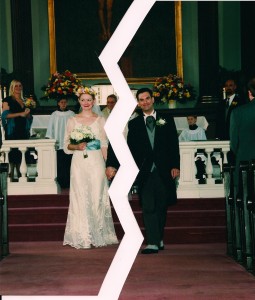 Mixed orientation marriages are fraught with misunderstandings and misconceptions. When disclosure occurs many falsely believe that both partners are immediately healed.  The most common comment I get is:
"So you guys are still friends?"
Second only to:
"Well you're both doing great, right?"

Everyone wants a happy ending, but these marriages rarely resolve well.  Of course not every mixed orientation marriage ends in divorce, and not every divorce is catastrophic. Regardless, in most cases life doesn't go back to normal.
A few of my critics have argued that as a straight person I don't face the same types of challenges my ex would as a newly outed homosexual.  They're completely correct – I have no idea what it's like to come out as a gay person after concealing my sexual orientation for most of my life.  I also have no understanding of what it might be like to grow up as a gay child, or to have my family reject me because of my sexual orientation.
The flip side of the dilemma is of course, that a gay person doesn't know what it's like to live as a straight spouse.  Although our marriages run the spectrum, for many of us deception, infidelity and betrayal defined our partnerships.  Taking the gay issue out of the equation, years of lies and cheating cause severe damage for anyone of any orientation.  Our partner's sexual orientation disclosure creates causes more obstacles.
When do we tell our children? – Will they be ridiculed because of it?  Will they face depression or anger? Will the disclosure cause friction between our children and our former spouse?  If the truth is accidentally revealed will our children get angry with us for hiding the truth?  Some parents choose to keep this part of their marriage secret for years.  To say that this is a difficult burden would be an enormous understatement.
What do we tell friends, family and co-workers?  – Ultimately the reasons for our divorces are no one's business.  What happens though, is if we don't give people a reason, they might invent one.  I had to deal with so many rumors and outright lies after my marriage fell apart.  Some criticized me for publicly outing my ex-husband on social media, even though my ex-husband and I had both agreed that for us it was the best way to handle it.  Many straight spouses enter into a closet that our spouses left, some hiding the truth for decades.
Have I been exposed to HIV? – Even though HIV isn't the automatic death sentences it once was, people are still dying from AIDS.  Of course HIV exposure is a risk with any cheating spouse, but the chances of infection are higher if the spouse is engaging in high risk behavior.  I've met more than one woman who have recently buried their spouses from full-blown AIDS.  Some extremely unfortunate partners have contracted the virus from a cheating spouse.
How do we live down the stigma? – Just as LGTBQ people have to deal with prejudices and hatred so do straight spouses.  I've gotten comments such as:
You had to have known he was gay
You turned him gay – this one happens more than you would think, I even once got it from an openly gay man.  I wish i had the power to change a person's sexual orientation but that's not a super power I posses.
There's something wrong with you, and that's why you married a gay man
You're gay yourself
You're sexually repressed, frigid or hate sex
Your ex is bisexual, no one is gay or straight everyone is bisexual – the term is sexual fluidity and I respectfully disagree with their opinion about human sexuality.
Your poor husband, that must have been so awful for him – I would never deny that it was easy for my ex, but it's really the worst thing to say to me right off the bat
Maybe your ex is just using it as an excuse – Are you sure he's gay?
Gay people are disgusting, evil and against God – people who make comments like these usually expect me to chime in.
Severely damaged sexuality – There is no way to sugarcoat this one.  Most straight spouses experience major problems with their own sexuality and self-esteem.  It's soul crushing to discover that the person you thought was the love of your life had little to no sexual attraction to you.  To act as if we can simply brush this off and go back to a normal life is naive at best.  Of course we do heal and move on with our lives but the negative sexual aspect of our marriages cannot be denied.
It's not easy to date again – That's true of any divorced person especially past the age of 35.  I have no idea how difficult it is for gay men and women in the dating scene.  I would never even try to speculate at the specific challenges LGTBQ men and women face every day.  I just know my own experience has been bleak.  I'm nearly five years out and have had nothing even close to a normal relationship.  I'm somewhat isolated in my job, I'm over 35, I live in a big city, I have massive trust issues and difficulty bonding – whatever the reason I'm perpetually alone.
Our unique circumstances separate us from the general divorced population.  We have a suicide rate that's over three times as high as people going through a typical divorce. Anecdotally I've found most of us have problems with bonding and trust and many of us have difficulty forming intimate relationships.
I'm not writing this to discourage straight spouses.  I just want to counter some of the biggest misconceptions about our experiences.  These marriages cause extreme damage to both partners.  Any privilege we have as straight people in a homophobic society doesn't equal the destruction to our self-esteem, sexuality, trust and shattered families.  It's not easy for us, or our closeted gay partners.  Despite the estimated 2 million people affected, the straight spouse community is largely hidden and underground.  Many of us suffer in isolation without knowledge that there are so many others.
I have nothing but love and empathy for LGTBQ people, and I hope that one day no LGTBQ person will enter into a fraudulent marriage.  If two people want to openly forge a mixed orientation marriage knowing the truth, that's something else entirely.  Marriages like mine based on lies, are not victimless situations.  I will continue to write about being a straight spouse and be an advocate for our community until this finally stops being a problem.  I have tremendous hope for future generations.  LGTBQ people will be able to marry and live whomever they want.  Until then I will share the brutal realities in the hopes that truth will set us free.
Related Articles
My website www.julietjeske.com
Follow me on Twitter https://twitter.com/JulietJeske
Add me on Facebook Juliet Jeske Facebook Fan Page
Please follow and like us: