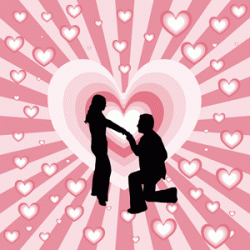 I've sometimes wondered if social media has made us more self-centered, or is it simply revealing our true narcissistic tendencies?  We live in a time of people taking self-portraits ad nauseam. Social media feeds fill up with images with the same basic message:  Look at me, Look at me, Look at me I'm doing absolutely nothing interesting, but for reasons unknown to anyone I really want everyone to see it.  Some feel compelled to declare absolutely every action or thought.  Our world is on overflow of useless, mundane and tedious self-aggrandizing affirmations.
In the days of proclaiming completely irrelevant information, some go to extremes when it comes to major life events.  Pregnancies are publicly documented from nearly the point of conception, wedding announcements go on for pages and pages and a few have even shared their marriage proposals with a global audience.  People spend small fortunes, recruit dozens of volunteers, hire professional musicians, and then toil away for hours editing, all in the hopes that their declaration of love will go viral.  I don't mind over sharing on pregnancies, and weddings have always been a big deal, but I cringe when I see the proposal videos.
I'm not just here to rain on their parade, I'm the tropical storm that shows up when the beauty pageant winners are riding in the backseat of a convertible.  I can't help myself.  I've been to the dark side of a marriage gone wrong, and I'll never view marriage in the same way again.  As a divorced person in midlife, I just don't see the world through such a dewy-eyed prism.  Not only did my own "perfect" marriage disintegrate, I've witnessed countless friends get dragged through brutal divorce hellscapes.  When I watch an elaborate public engagements I don't see a deep never-ending love.  Instead I see person with narcissistic tendencies and a completely delusional view of marriage.  The main focus in almost all of the videos is the guy proposing, not his bride.  So it makes me wonder, is this about his never-ending love for his love, or is it about his ego?
Of course there are exceptions.  If the circumstances of a couple were truly outstanding then I might understand why they might want broadcast such a personal highly emotionally charged moment.  If a partner had narrowly escaped death, returned from war, or a same-sex couple that has been together for decades and can now finally get married.  I understand why they might want to go all out.  In some instances I get it.
Marriage is not about the theatrics.  It's about weathering the harshest storms life throws at you.  Marriage is sticking with someone when they get sick, go broke, or make huge sometimes extremely hurtful mistakes.  Marriages aren't a Disney movie come to life.  They're the every day grind.  Sticking it out for the long haul is about just trying to get along during those boring, tedious and stressful days.  It's putting up with bad habits, compromising and trying to see the bigger picture.
A person has every right to have a blow out or elaborate engagement or wedding.  We all have different styles and tastes, but it certainly isn't an indicator of the depth of someone's love or commitment.  Because again, love in the long-term, multi-year extended version doesn't survive at that intensity.  It changes, and the adaptations it goes through aren't necessarily bad.  When I see these public extravaganzas I can help but think, when they are fighting about where to live, what to buy, or how to raise their kids, it won't matter how many flash mob dancers appeared in their youtube video.
Marriage is also extremely fragile.  Our divorce rate is so high in part, because people grow and change as we get older.  Sometimes two people who made the perfect pair in their twenties, are completely incompatible in their forties.  Some spouses flip out midlife decide to start over, and there is very little the other spouse can do about it.  People get married for all the wrong reasons.  They get caught up in the excitement of wedding planning, picking the perfect dress, creating the most elaborate engagement and lose sight of why they're doing this in the first place.
The latest viral engagement video stars a man who created it over a four-year period.  Apparently he knew after their first date, that his girlfriend was his partner for life.  The pair just graduated from college, which would make them about 18 years old when they met.  So this is probably the first major relationship for either of them.  Are they soul mates who just got lucky and found each other early?  Or are they two kids who have no idea what lies ahead of them?  Statistically people who marry for the first time under the age of 25 have a higher rate of divorce, but they could beat the odds.
Will we ever view marriage in a realistic light, or will we continue to promote an unattainable fairy tale?  Will some women start to resent a simple proposal over dinner?  Are obnoxious public declarations the new normal?   If videos like these warm your heart that's great, and some are actually sweet. I just can't help but see what will probably happen in at about half of these marriages.   Maybe the next trend will be dramatic divorce videos complete with flying dishes, lawyer co-stars and tear filled monologues.  I hope no one thinks that's a good idea.
Related Articles
My website www.julietjeske.com
Follow me on Twitter https://twitter.com/JulietJeske
Add me on Facebook Juliet Jeske Facebook Fan Page
Please follow and like us: