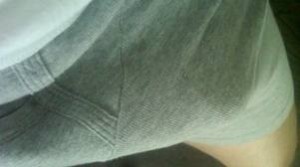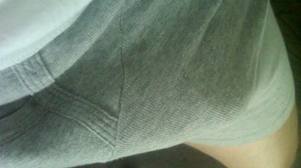 So what is a Dick Pic aka Cock Shot?  A photo usually sent via text or email, where a man shows off his penis. Some are close-ups of just the genitalia, others are full nude body shots.  The boldest dick pics include a face usually with a sexy expression.  Most are selfies taken with a mirror and a camera phone, but I've even got a few professionally done artistic shots in my inbox.  It's such an epidemic, that nearly every single woman I know has gotten dick pics and often from men they've never even met.  Although I've never asked for one, I collect the photos I've gotten in a secret album in my phone.  I call it my dick pic collection and I openly mock it in my stand-up act.
Men who send dick pics must think: What would I really love to see about a woman I don't know?
HER VAGINA!
And really bravo to men who like vaginas!  I know most straight men love them, and it is beautiful when men get excited about the wonderful universe that is female genitalia!
Women aren't as visually stimulated as men are sexually.   If women really loved disassociated penises, we would just spend our days flipping through photo after photo of dick picks.  There would be websites and magazines dedicated to cock shots and dick pics.  Sure someone did dedicate a tumblr account to the anaconda between Jon Hamm's legs, but for the most part pornography for women is much less graphic or visual.  Women consume porn is in the form of romance novels, erotica and soft core cable television.  If women desired the same type of visual stimulation and graphic sex that men did, then our country would be littered with strip clubs filled with naked men grinding on poles and doing lap dances.  Sure a few exist but they are mostly a novelty and nowhere near as prevalent as clubs geared towards straight men.  Men and women just aren't wired in the same way.
An unusually large penis is not necessarily attractive to all women.  Just because something looks mighty and large doesn't mean it's a lot of fun.   As with many skills in life, it is not so much the tool as it is the technique. An erect penis is just so intimidating.  It says only one thing – this is the size of my dick.  It doesn't indicate if a man is a good lover or a boring one. and it doesn't let a woman know if he'll be selfish or a bore. Good sex is much more than a big penis.
In our virtual world of streaming porn and instantly downloaded images of just about anything, the dick pic has become almost mundane.  Until recently they even showed up on online dating profiles.  In the past couple of years most sites have gotten better about filtering them out, but I did come across a few profiles that puzzled me. The primary photo was usually an erect penis covered only by briefs a towel, but then the rest of the profile read completely normal, as if the man was looking for a serious relationship.
"I just want to meet a nice girl who I can hang out with"
"My friends say I am one of the sweetest guys you'll ever meet"
"I'm really close to my family and my mom."
"I just want to meet a nice girl who will want to watch movies with me."
"I would love to meet someone who sees the world in the same way I do, who is kind and caring and has a sweet heart."
"My favorite books and movies are…"
When reading this profiles I couldn't help but be distracted by their throbbing manhood.  It trumped everything.  I can understand using a cock shot in a hook-up site like Adult Friend Finder or tinder, but it just seems like overkill if a guy is really looking for something more.
If a woman just wants an emotionally detached sexual experience, she doesn't need to know what your favorite movies are or that you are close to your mom.  Actually the fact that you brought your mother up at all when your main photo is of a cock is not only weird, it's downright creepy.
f the men who post cock shots and dick picks are just looking for a hook-up situation, I understand why they would want to show off their sex organ. But then their profiles should convey as much. For instance in the About Me section, they should just write.
I am looking to hook up with women who live near me, I live in Williamsburg and I love oral sex.
That kind of profile goes with a Dick Pic, but
"I am just looking for the right girl, are you out there?"
That doesn't really go with LOOK AT MY ERECT PENIS!
But now I wonder, what is a female Dick Pic?  Not in a literal sense of course, but what would men consider a red flag on a woman profile.  What would be something that might indicate a jump from zero to sixty?
Typing long-winded descriptions of our perfect man
Putting photos of our cats in our profile
Writing about biological clocks ticking
Smiling while wearing a wedding dress with a caption that reads – I want to get married so badly!
Mentioning our emotional problems, mental illness or therapy
Writing about past relationships
Posting a photo of yourself wearing sweats and eating ice cream
Having men in our of our photographs
Writing about past substance abuse problems
I'm sure some women out there get excited about dick pics.  After searching through so many boring faces, they stumble along a giant penis and think to themselves – FINALLY!  But I feel safe in saying, for the majority of straight women we would rather see one after we get to know you.
Related articles
My website www.julietjeske.com
Follow me on Twitter https://twitter.com/JulietJeske
Add me on Facebook Juliet Jeske Facebook Fan Page
Please follow and like us: