A couple of weeks ago I got in invitation by the good people of Adam&Eve.com, a one time sponsor of this blog, to attend a love poetry workshop taught by local writer, Suzannah Weiss.  I debated if I should go, since poetry and me aren't really a thing.  I dig poetry and all but I would hardly call myself a poet.  The idea of writing a love poem really left me at a loss.  Could I write a love poem about the despair of abject loneliness? Could I pen a sonnet about how much I hate dating in New York City, or the profound narcissism of my ex-husband?  It might work if they let me write about dick picks and magical vaginas, but then I noticed they were giving out gift bags and the deal was sealed.  How could I not go?  I had to get my gift bag of swag from a sex shop, just to see what they'd give me.
The morning of the event, I had a fiasco with one of my day jobs that I absolutely had to deal with so I arrived fashionably late to the love poetry-sex shop-soiree.  Once there, I felt a bit like the slacker who showed up tardy for class, but I was quickly forgiven.  Our teacher, Suzannah Weiss was kind and patient and even had me read a poem I had written on the spot.  I openly admitted I wrote it about my cat Schatzi, since I have no other inspiration in my life.  If you knew Schatzi, you'd write poems about her too.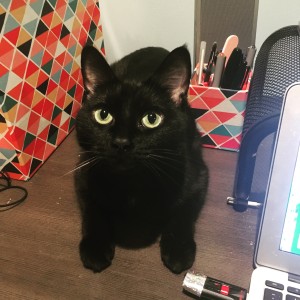 Nearly all of the other bloggers were women, and many of them cat owners so it turned into a flurry of cat photo sharing and stories about our feline companions..
I met a lovely woman who named her blog New York Cliche, because much like myself she was just owning her single, professional, artistic, cat-owning, independent woman persona. I also connected with a long-time Facebook friend fellow writer and general overall badass Yolanda Shoshana.
Then we finally got the goody bags…..and this is what they contained!
A sexy feather duster, you know for all of your sexy feather duster needs…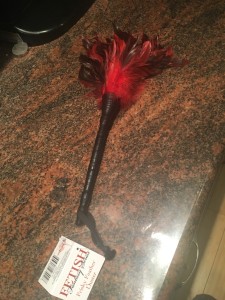 A BDSM mask, although honestly I could use this on trips in rooms with too much light. It's comfy, and thicker than most.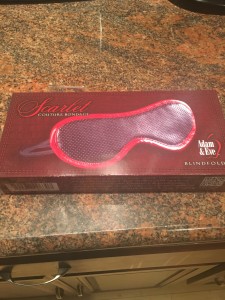 A tiny cock ring, and another vibrating cock ring type of device.  Free condoms – that's usually a given as everyone should practice safe sex!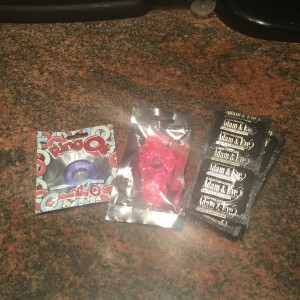 A water based personal lubricant! – We could all use some more lube in our lives.  A silver bullet! BATTERY INCLUDED! – Most ladies know this is a very special thing indeed.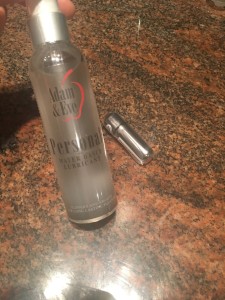 I admit I was hoping for a dildo, not because I wanted to use it, but because dildos are comedy gold.  They're probably too expensive to give away to bloggers, and a bit forward.  "Here's a fake penis for your enjoyment" is coming on a bit strong I guess. Overall I thought the entire experience was amazing!  I don't think I'll become a poet any time soon, or write a love sonnet to anyone besides my cat.  A woman working for a PR firm called me a journalist, which was sort of wonderful.  I also got to meet fellow New Yorkers who have also found their voice online.  Although I am not a huge consumer of sex toys or adult products I have heard wonderful things about www.Adam&Eve.com, so if you are in the market for some sexy stuff for Valentine's Day or any day, check them out.
Here's my Valentine's Haiku (At least I think it's a Haiku, again, I'm not a poet)
I don't want dick pics
I'd like a piece of your soul
or just a kind word
Related Articles:
My website www.julietjeske.com
Follow me on Twitter https://twitter.com/JulietJeske
Add me on Facebook Juliet Jeske Facebook Fan Page
Please follow and like us: